Neverwhere Returns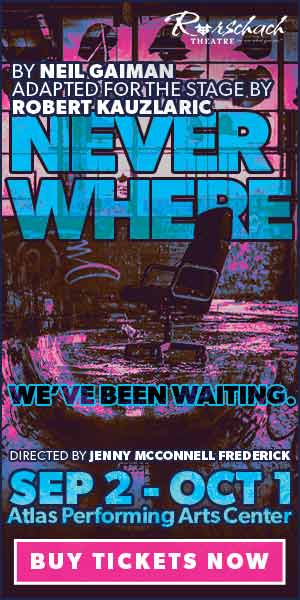 NEVERWHERE
Adapted for the stage by Robert Kauzlaric from the novel by Neil Gaiman
Directed by Jenny McConnell Frederick
SEPTEMBER 2-OCTOBER 1, 2017
Atlas Performing Arts Center
1333 H Street NE
PAY-WHAT-YOU-CAN PREVIEWS:
Saturday, September 2 @ 8pm
Sunday, September 3 @ 3pm
Monday, September 4 @ 8pm
(PWYC tickets are on a first come, first serve basis for purchase in person at the box office, one hour before the show. Advance tickets for the Previews are full price)
"A brilliantly haunting tale with cracks of sparkling magic woven seamless into every element of the production, it's the most mystifying show you'll see all season." – DC Metro Theatre Arts
"The inventive Rorschach Theatre has a flair for cult fantasy, but the troupe has upped its game big-time for the sprawling Neverwhere." – Washington Post
CLICK HERE TO SUPPORT NEVERWHERE'S KICKSTARTER!
Redesigned and reimagined from the hit 2013 production,
with most of the original cast returning
Neil Gaiman's trip into the world below London returns to Rorschach Theatre.
When Richard Mayhew stumbles upon an injured young woman on the streets of London, he has no idea that he has also stumbled upon the fantastical world of London Below. Sucked into a world of monsters, tricksters, beasts and angels, Richard learns that life is far more interesting than you can imagine … if you just know where to look. Neil Gaiman's heralded cult-classic novel returns to Rorschach Theatre in a vivid immersive experience.

For more photos, reviews and articles about the original 2013 run, CLICK HERE
For some remarkable audience testimonials from the 2013 production, CLICK HERE
FEATURING McCaul Baggett, Daniel Corey, Lee Liebeskind, Cam Magee, Thais Menendez, Scott McCormick, Robert Pike, Megan Reichelt, Robert Bowen Smith, Dina Soltan, Christian Sullivan, Sarah Taurchini, and Grady Weatherford
DESIGNED BY David C. Ghatan, Robbie Hayes and Ryan Smith (Set and Projections Design), Cory Ryan Frank (Lighting Design), Veronica J. Lancaster (Sound Design), Debra Kim Sivigny and Sydney  Moore (Costume Design), Tara Lyman-Dobson (Props)
WITH Gordon Nimmo-Smith (Production Manager), Linz Moore (Stage Manager), Medha Marsten (Assistant Director),  Casey Kaleba (Fight Choreographer), Jenna Berk (Vocal/Dialect Coach), Megan Reichelt (Dramaturg), Elliott Shugoll (Master Electrician), Matt Wolfe (Technical Director)
. 
YOU BELONG WITH US…
"down here in the sewers and the magic and the dark" 

We're bringing back NEVERWHERE with some new cast members and cutting edge design for 2017 … and YOU can be part of bringing this transformative theatre from fantasy to reality!
CLICK HERE to learn more about the KICKSTARTER
with benefits such as:
* Free Tickets and T-shirts!
* A backstage meet and greet with the cast!
* A walk-on role where you can literally be part of the show!
* The prop of your choice from the show — an original, not a replica!
* A beautiful, limited edition printing of Neverwhere signed by Neil Gaiman himself! (pictured below)
* And more!