Forgotten Kingdoms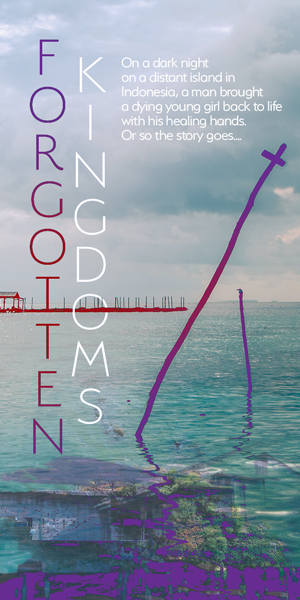 By Randy Baker
Directed by Cara Gabriel
April 21, 2017 – May 21 2017
Atlas Performing Arts Center
Thursdays, Fridays and Saturdays at 8pm
and Sundays at 3pm
Additional Show on Monday, May 8 at 8pm
TICKETS ON SALE NOW
Pay-What-You-Can Previews April 21 – 28
To get pay-what-you-can rate, tickets must be purchased at the door. Tickets purchased in advance or online will be full price.
On a small island in Indonesia, a wooden house balances on stilts over a churning sea. In this house Reverend David Holiday tries to convert a skeptical young local whose fate has become improbably intertwined with his own. At stake this night is the life of the young man's father, the future of this island's ancient culture and the happiness of an American family caught between worlds. As the night turns into morning, the fate of David's haunted young son becomes the biggest question of all.
Forgotten Kingdoms runs a little over two hours with one 10-minute intermission.
A world premiere by co-Artistic Director Randy Baker, the script of Forgotten Kingdoms was developed in Washington with the National New Play Network and Inkwell Theatre, in Houston with Wordsmyth Theater and in New York with Manhattan Theatre Works' National Newborn Festival. Most recently it was developed in Malaysia and Indonesia, culminating in a staged reading with the Jakarta Players in January 2017.
CLICK HERE TO READ THE PRESS RELEASE
FEATURING Natalie Cutcher, Sun King Davis, Jeremy Gee, Rizal Iwan and Vishwas.
DESIGNED BY Debra Kim Sivigny (Set and Costumes), Tyler Dubuc (Lights), Justin Schmitz (Sound) with Brian Gillick (Asst. Set Designer) and Amanda C. Kircher (Asst. Lighting Designer)
WITH Gordon Nimmo-Smith (Production Manager), Jennifer Knight (Assistant Director), Linz Moore (Stage Manager), Sybil R. Williams (Dramaturgy), Christian Sullivan (Technical Director), Elliot Shugoll (Master Electrician), Casey Kaleba (Fight Choreography), Britney Mongold (Scenic Charge), Megan Ann Robbins (Asst. Stage Manager)
PRODUCED BY Randy Baker, Jenny McConnell Frederick and Jonelle Walker