Randy Baker, Artistic Director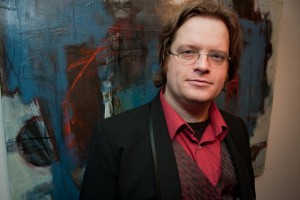 "Good storytelling is a sort of fearless magic act, in which events move too quickly to tolerate objection… And this is the way that director Randy Baker and the rest of the Rorschach troupe tell this story: with such assurance and commitment that the impossible seems true."  
- DC Theater Scene (About 1001, July 2009)
Randy Baker is a playwright, director and the co-Artistic Director of Rorschach Theatre which he founded  with Jenny McConnell Frederick in the summer of 1999.  He is also faculty at American University and at the National Conservatory of Dramatic Arts.  He was recently chosen to be a member of The Playwright's Arena, a part of Arena Stage's American Voices New Play Institute.
Plays he has written and had produced at Rorschach Theatre include the full-length plays Dream Sailors and After the Flood and the short plays Paolo and Francesca, Beit Jala and Crunch. Other produced plays include the full length plays Circus of Fallen Angels at the National Conservatory of Dramatic Arts, wild42hold at George Washington University and the short plays The Rabbit and The Snake and Cassandra Dances with the Devil at Source Theatre, A Lonely Dictator on the Eve of Revolution at Forum Theatre, The Boy Who Knew No Fear at Three Leaches Theatre (Colorado), Sam the Prophet, Veronica's Omelet and The Wind at Their Backs at Extreme Exchange and The Ballad of Saint Valentine at the Washington Theatre Festival.
Readings and workshops include Forgotten Kingdoms at National New Play Network, Inkwell Theatre, The Arts Club of Washington, Wordsmyth Theater (Houston) and MTWorks' National Newborn Festival at MTWorks (New York) where it won the Audience Choice Award, The First Disobedience which was commissioned by NCDA and was subsequently developed at American University and Theater Alliance, Gilgamesh at Rorschach Theatre and Vox at Theater Alliance.   
Monastery is being developed through Theater J's Locally Grown program its first public reading in May 2013. The Burning Road is being developed through Arena Stage's Playwrights Arena and will receive a public reading in March 2013.
As a director with Rorschach Theatre he has directed The Minotaur, After the Quake, 1001, Rhinoceros, JB, Behold!, Fair Ladies at a Game of Poem Cards  and Monster. He has also directed for Source Theatre, Inkwell Theatre, First Draft, NCDA's Actors Repertory Theatre, Wayward Theatre,  Cherry Red Productions, American University, Imagination Stage and Young Playwrights Theater where he is a company member. Upcoming projects include Marat/Sade at American University.
Randy grew up overseas, mostly in Malaysia and Singapore and came back to attend the University of Richmond. He moved to Washington DC in 1997 and currently lives in Adams Morgan with his wife, costume designer Debra Kim Sivigny.  He received his MFA in creative writing from Goddard College and is a member of the Dramatists Guild of America.
More information can be found at randybakerdc.wordpress.com.